Your last stop for Fuel Injector Connectors and Accessories.
(This site is mobile Friendly)
There is a reason we are at the top of the search engines. Connectors Fast has become one of the fastest growing suppliers of fuel injectors connectors in the USA and abroad.
You simply wont find better customer service and better pricing in the domestic USA.
Fuel injectors are controlled by electronic pulses from the vehicle's electronic control module. Injector connectors secure the signal wires to each injector and make the electrical contact. Just like everything else under the hood, they are susceptible to wear and tear. Being very close to the cylinders, injector connectors are subjected to significant vibration, temperature, and chemical exposure.

We now have the hard to find Hayabusa male and female injector connectors as well as the new Toyota Tundra and Honda connectors. We also have 2003 to 2010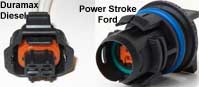 Duramax and Power Stroke Diesel injector connectors.
Over time the connection could become corroded or loose, and the fuel signals from the ECM may become weak or might not reliably get through to the injector.
If your engine is running rough, you notice a loss of power, or your engine engine idle seems to be erratic, one thing to check are the injector connectors. If your injector connectors show signs of aging such as cracks, warping or loose fit, these are indicators that they could need replacement. Take time to examine them closely. The good news is that while fuel injectors are fairly expensive, new injector connectors from Connectors Fast are very affordable.
Bosch EV1 mini timer female connector with pigtailIf you are in need of custom harnesses for Ethanol, CNG, LPG or Natural Gas conversions, or just need a factory harness repaired let Connectors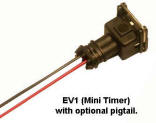 Fast help you.
Our products carry a 90 day guarantee of quality and we will beat anyone's advertised price. We pride ourselves on prompt shipment. Most orders prior to 1 PM Mountain time can be shipped the same day.
Need a lot of connectors? We will sell in bulk at great wholesale prices. Contact us today! Our connectors are ISO 9001 – 2000 Compliant.